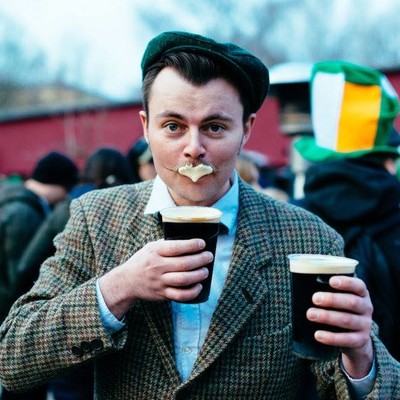 Events
St. Patrick's Festival Berlin 2018
About the Event
Dear friends of St. Patrick's Festival Berlin, We are delighted to announce that SPFB is officially BACK WITH A BANG on Saturday, March 17th, 2018!!!
#patisback
We have joined forces with Urban Spree in Friedrichshain to host our special day in March! Urban Spree, the cultural icon on the old RAW Grounds beside Warschauer Str, is the perfect venue for our comeback special! We'll have Irish streetfood vendors serving delicious Irish drinks and food, live music, Irish dancing, and so much more. Make sure you join our Facebook event to stay up to date with announcements! Unfortunately we didn't receive permission for the parade this year, but not to worry! We'll open the gates at Urban Spree from 13:00 so rugb
y fans will be able to watch the first of 3 live games in the 6 Nations Championship. The highlight will be England vs Ireland (k.o. 15:45) shown on big screens.
We have invited Setanta Berlin GAA to build an indoor GAA section showcasing the very best of Gaelic football and hurling. We will have kids activities, such as Irish Storytelling, arts and crafts, face-painting and the very special opportunity to dance with our lovely Irish dancers. We are also very pleased that members of Berlin-Ireland Pro Choice Solidarity will be joining us to raise awareness about the upcoming abortion referendum in Ireland and to promote the #hometovotecampaign. We have a packed schedule of diverse, Berlin-based Irish musicians for the FREE concert in the garden. 4 Minute Mile are sure to set the tone early when they kick things off at 14:00. We will then have the opening ceremony at 15:00 featuring the incredible dancers from Irish Beats Dance Company Berlin. St. Patrick himself is also due to make an appearance :-) 2-piece Irish folk group Slí na Sláinte will have a more calming influence on proceedings when they take to the stage at 16:00. After the Irish rugby match (17:30), headline act Joey Ryan and his band will take to the stage performing a mix of his own material as well as Irish rock classics. Kilkelly will then perform some folk and blues numbers before Seán Óg and David Flowerkraut treat us to some classic Irish ballads. The Afterparty featuring a traditional Céilí Mór Irish dance followed by renowned Irish DJs follows on from the concert and will keep revellers moving until the wee hours :-) #patisback #afterparty At a Glance - St.Patrick's Festival Berlin is back and will be held on Saturday, March 17th, 2018 - The venue is Urban Spree, Revaler Strasse 99, 10245 Berlin - Diverse mix of Berlin-based Irish musicians. Final line-up confirmed. Follow us here for more! - Final day of NatWest 6 Nations Rugby Championship on the big screen. All 3 games LIVE (from 13:30) - Tickets for the Afterparty are already on sale. Limited availability! So sign up to our newsletter, follow us on social media and spread the word that #PATISBACK in 2018! The SPFB Team