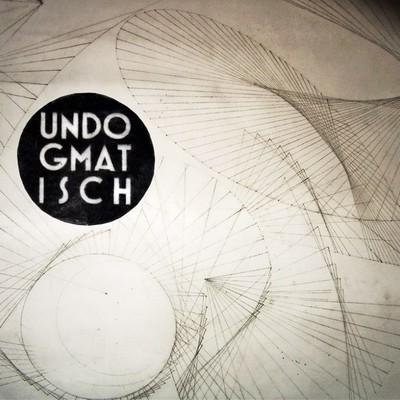 Events
UNDOGMATISCH | Subʞutan + Grün + Drøp + T.C.O. + Nekrobot + Mogano + SECRET SHOW!
About the Event

UNDOGMATISCH
Subʞutan
|Dj (IfZ / Vertigo)
No pianos, scarce vocals, no light – nevertheless a tapestry of sound that reaches deep beneath the skin. As co-organizer and resident of Vertigo, Subʞutan has quickly made his mark on Leipzig's electronic music scene and has expanded upon facets of music that, until now, have been painfully missed. His name stands for the melancholic and dark sounds of techno, going beyond the experimental to where a 4/4 pulse finds its place. In Subʞutan's sets, hard, dry kickdrums stomp tirelessly through a post-industrial tristesse, behind which you can always clearly hear the beating of a human heart.
https://soundcloud.com/to_be
https://www.facebook.com/pages/Subʞutan/141951219191649?v=wall
Grün
| Live (Dromoscope)
GRÜN is a project entirely dedicated to the biological nature of Green, intended as a frequency of light spectrum as well as archetypal symbol of what we usually name "Nature". It is an organic sonic creature taking shape by controlled interactions between purpose-made analogue synthesis modules, field recordings and acoustic piano parts, resulting in a deep-bass sonic form sounding like over-amplified microbiological worlds. The project takes shape through site specific analogue autogenerative a/v installations or fully improvised sound performances by Daniele De Santis, Berlin based drummer-percussionist and electronic music producer, founder and artistic director of DROMOSCOPE.
https://soundcloud.com/grunsound
www.dromoscope.net
Drøp
| Live (Arboretum) Drøp is an electronic music project born in Berlin in 2010 by Giuseppe Bifulco, sound designer and engineer. It focuses on sounds investigation and experimentation, not that much in an aesthetic meaning, rather than in a perceptual and sensorial one, considering the sound as a bundle of informations that deal with psycho- acoustic and music therapy. The sound is generated so far by manipulating electric circuits, lights or everything else is able to turn electric impulses into sound sources describing with thin, rarefied and abstract environments a deep fascination for the mathematical theory of the empty-set (ø). This leads the listener into an dream-like dimension, an empty set, a suspended state of mind reached through a rich narrative flow of micro-sounds, glitches and convulsed rhythm.
https://soundcloud.com/drp-1
T.C.O.
| Live (Suite inc. / Undogmatisch) T.C.O. aka Mirco Magnani is a Berlin based music composer, producer, video artist and dj, he was co-founder and composer of the music projects Minox, Technophonic Chamber Orchestra, 4Dkiller. Since 1984 he produced music and mixed-media events with Minox; since 1996 he co-founded the independent record label Suite inc./Suiteque. He worked with Steven Brown (he produced Minox "Lazare" – Industrie Discografiche Lacerba – Lacer 9 – 1986) and Blaine L. Reininger of Tuxedomoon, Lydia Lunch, Krisma, Mad Professor, Nobukazu Takemura, The Gentle People, Murcof, Daedelus. In 2004 Mirco started his solo project T.C.O.and going soon to release a new album, a sort of electroacoustic Opera titled "Madame E.", based on a novel from Georges Bataille with the singer Ernesto Tomasini. T.C.O. will present a preview of the new tracks he's working on for his next techno releasing, mixing digital with live improvised analog devices.
https://soundcloud.com/mirco_magnani
www.mixcloud.com/tcomircomagnani/
Mogano
| Dj (Arboretum)
Founded by Marco Berardi around 2010, this project focus on a combination of club-music elements with iterative ancestral rhythms, drone ambient landscapes, dub foregrounds, noise and rough bass incursions. After playing for some years across the Dub/Dubstep scene and lately in the Techno one, he started to develop a deep interest for sounds experimentation and visual art that led him, together with the visual artist Andrea Familari FAX and the sound designer Drøp, to found Arboretum, a cooperative platform which promotes Audio/Visual experiments and an immersive experience of clubbing. Since 2012 both the projects are rooted and active in Berlin counting on several participations amongst more experimental contests and the club scene.
www.soundcloud.com/mogano
www.inarboretum.com
Nekrobot
| Dj (Sabbat)
Nekrobot comes originally from Athens where, being a member of Jinx Entertainment collective, was spinning minimal and synth punk in underground clubs around the city for the last seven years. An the same time was editing and experimenting with visual and audio collage, continuously deconstructing and distorting reality on the wrong side of entertainment. Arriving in Berlin, became resident at Sabbat party, doing unusual mixes of harsh electronic sounds. Nekrobot wishes to express disorder in sound and vision.
www.mixcloud.com/nekrobot
https://www.facebook.com/nekro.bot?fref=ts
FAX
|Visuals (Arboretum)
Italian artist, born in 1987, lives and works in Berlin, Germany. His works encompass from Vjiing, Audio/Visual Interactions, Mapping, Interactive installations to Scenic-design and investigate mostly on the decomposition of micro/macro cosmos. Since 2012 he works also as Workshops Manager for LPM (Live Performers Meeting): an international meeting of live video performers, video artists and vjs, that seeks to study the practices that most have influenced live video performance. In 2013 he also founded, together with Marco Berardi (Mogano) and Giuseppe Bifulco (Drøp) the Records Label Arboretum, a cooperative platform for Audio/Video experiments.
Valentina Bardazzi
| Videoinstallation (Undogmatisch)
Valentina is a painter. "True perfection does not exist, the sense of beauty comes from imperfection." In the attainment of perfection, there is always the need for some elements of ugliness and of madness. When the ugliness is there, it is often overlooked, either intentionally or unintentionally, but perhaps when it is overlooked, true perfection is obtained. In late 2007, Valentina Bardazzi and Mirco Magnani began to work together using the same subjects for the Valentina's paintings and for Mirco to make videos by their first thematic exhibition project titled "Untitled for Parenthesyne Suite", in 2010 " Mio Son Tuo" and in 2012 "Real Dreams".
https://www.facebook.com/valentinabardazzi1?fref=ts
Dusan Pejcic
| Video (Gray Sister)
Dušan Pejčić, born in Belgrade, Serbia. With the background in graphic design, fine arts and fashion design he currently lives and works as costume and multimedia designer in Berlin, Germany. Dušans work is constantly moving between costume and set design, video art, graphic design, 3d art, illustration and painting, resulting in a multidisciplinary projects and collaborations with various artists, designers, filmmakers, performers and choreographers.
http://vimeo.com/user6549156
http://graysister.com/