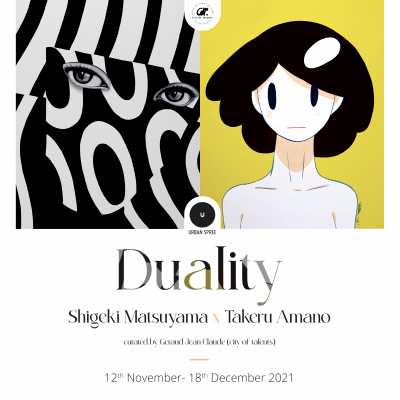 Takeru Amano & Shigeki Matsuyama
Takeru Amano & Shigeki Matsuyama: Duality
Nov 12, 2021
Dec 18, 2021
Information
Curator
Urban Spree Galerie x City of Talents
Vernissage
Nov 12, 2021 18:00
About the Exhibition
Urban Spree Galerie presents "Duality", a duo show presenting recent works by two famed Japanese contemporary artists, Takeru Amano and Shigeki Matsuyama.
The Exhibition is organized in association with City of Talents and curated by Jean-Claude Géraud.
The Opening will take place in Berlin on Friday, November 12th from 18:00 together with "Foreign Affairs", Roman Klonek's second solo show at Urban Spree.
Duality displays 29 contemporary portraits from two painters who grew up in Japan in the late 1970s/80s and, whether through family identity or the culture of the times, embraced the pop aesthetics of modern Japan.
Amano delves into the manga aesthetics and creates portraits, drawn by simplicity and expressiveness, effectively creating modern icons. His works can be understood both within the Japanese culture and from a Western standpoint, as manga exposure permeates the culture and hybridizes itself. The simplicity of the characters facilitate the broad identification process between the viewer and the image. He can create delicate portraits as well as spray painted faces executed at the speed of light - as both facets of the same process - whereby Amano subverts the aesthetics of manga, using its form to bring a profound and different set of feelings.

Feelings also occupy also the centerstage in Matsuyama's paintings. "When I'm creating, I often take inspiration from the things around me; things like a sense of unease and distrust towards media like the Internet and TV, reactions towards them, and their effects, for example".
As a post-internet artist, Matsuyama addresses digital identity. The stoic and precise gazes of his portraits comes strongly in opposition to the striped camouflage of the body. The eyes directly engage with the spectator, reflect and interrogate about our projected identities and lived identities, elucidating how they are becoming difficult to separate in a post-internet era. Matsuyama's work interrogates the discrepancy between how we want to be seen, how we choose to hide ourselves, and how we are perceived.
Available artworks
Ooops, there is no results...