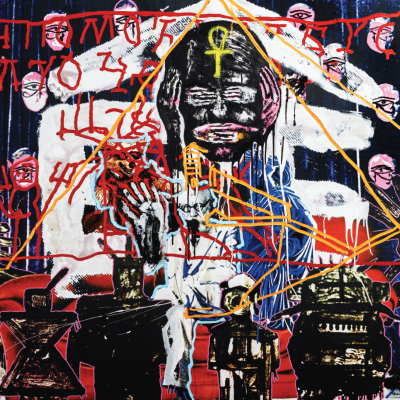 : Orsten Groom: Chrome Dinette
Oct 23, 2020
Jan 23, 2021
Information
Vernissage
Oct 23, 2020 18:00
About the Exhibition
From October 23rd to January 23rd 2021,
Urban Spree Galerie
is pleased to offer the painter
Orsten Groom
his first
solo exhibition in Germany
, "
CHROME DINETTE
".
The Gallery is closed until January 31st, 2021. Only by appointment (contact@urbanspree.com)
ORSTEN GROOM: "EINSOF - A" from the CHROME DINETTE Series -  160 x 215 cm - Mixed Media and Oil on Canvas
As a radically independent artist,
Orsten Groom
has established himself in a few years as a key player in the young French painting scene, navigating between alternative circles and institutions. His first retrospective was presented this year at the ACMCM contemporary art centre in Perpignan (France) - at only 37 years old. The Berlin exhibition brings together over thirty works, presented in two sections: - the Large Ensemble of 18 paintings "CHROME DINETTE", a crazed round about the links binding Sigmund Freud and Moses through Ancient Egypt & Sick Poodles - all under the aegis of Frank Zappa; - A vast Recapitulative Selection of Orsten Groom's emblematic large formats, a genuine subconscious journey with Parietal Sarcophagus allures.
ORSTEN GROOM: "FORT - DA" from the CHROME DINETTE Series -  160 x 215 cm - Mixed Media and Oil on Canvas
Orsten Groom's painting is presented as "Post-Historical Cave Art". The German artist
Jonathan Meese
said about him: "
Orsten Groom comes from the caves and the Middle Ages and keeps history alive in today's art. He comes from the future
". Apocalyptic Frescoes, saturated with Creatures drawn from the Memory Styx by Demented Talmudic Investigations, Carnivalesque Recapitulation of History from the Flow of Origins and Art History -
His Painting roars on Large Canvases populated with Figures entangled by Mythological and Grotesque
Archetypes, Dances Macabres gleaned by a Language Detective, an Amnesiac Epileptic Archaeologist.
Its Material is Dense, Volcanic, inhabited like the ancient Livers of a Divinatory Ritual. «
This turmoil is similar to the one I feel in the Grottos of Lascaux or Chauvet, in front of El Greco or Picasso paintings, or, in the 20th century, facing the essential work of Gérard Gasiorowski
»,
wrote Olivier Kaeppelin, Curator of his recent Parisian Exhibition POMPEII MASTURBATOR
- For which the Archaeological Park of Pompeii itself has send a complaint. Orsten Groom experienced in 2002 an aneurysm that left him amnesic and epileptic. He graduated from the École Nationale Supérieure des Beaux-Arts de Paris in 2009 and Le Fresnoy in 2011. He is the recipient of several awards: Prix l'art est vivant (2019
),
Prix de Peinture de l'Académie des Beaux-Arts (2016) and
Prix de Peinture Antoine Marin (2015). The reputed paint manufacturer Marin manufactures a colour to his name, the Pink Groom. He is also a musician, author of collections of English cubist poems, filmmaker (Jury Prize for his film 
BOBOK
at the 2011 Côté-Court festival) and since 2012 author of the video cycle
Les Ballets Russes
. He has collaborated with curators and authors Olivier Kaeppelin and Paul Ardenne, the filmmaker Guy Maddin, the translator and poet André Markowicz, as well as the writer Boris Wolowiec.
ORSTEN GROOM: "L'CHEIMLICH" from the CHROME DINETTE Series -  160 x 215 cm - Mixed Media and Oil on Canvas
Ich bin der Dreck unter deinen Walzen / Ich bin dein geheimer Schmutz Und verlorenes Metallgeld / Ich bin deine Ritze und Schlitze / Ich bin der Autor aller Felgen Und Damast Paspeln / Ich bin Eier aller Arten / Ich bin alle Tage und Nächte / Ich bin der Chrome Dinette / Und du bist mein Sofa. -
Frank Zappa
CHROME DINETTE
is Burning Divan, Hypnotic Sphinx and Sick Tongue of the Unpronounceable God. A 114-page
catalogue
of the CHROME DINETTE exhibition has been published to accompany the exhibition with texts from the French painter Vincent Corpet and Orsten Groom. It is now available in the
Urban Spree Webshop
.
ORSTEN GROOM: CHROME DINETTE
"Divan, Divan, Weisst du, Wer Ich Bin?" 23.10.2020 - 23/01.2021 Vernissage: Friday, 23.10.2020 from 18:30 in presence of the artist
Urban Spree Galerie
Revaler Str. 99 10245 Berlin Contact, info & catalogue: Pascal Feucher (
pascal@urbanspree.com
)
Opening Hours: Wednesday-Friday 14:00-18:30 // Saturday: 12:00-18:30 and by appointment 
Free Entry
Open in November
INSTAGRAM https://www.instagram.com/orsten_groom/
FB https://www.facebook.com/orstengroomglues/
WIKIPEDIA https://fr.wikipedia.org/wiki/Orsten_Groom
Available artworks
Ooops, there is no results...