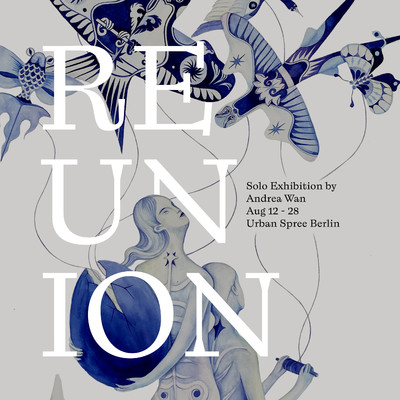 Andrea Wan
Andrea Wan: Reunion
Aug 12, 2022
Aug 28, 2022
Information
Curator
Urban Spree Galerie
Vernissage
Aug 12, 2022 18:00
About the Exhibition
Running in paralllel to Nafir's "Flooring Gods", "Reunion" is a new exhibition at Urban Spree Galerie featuring illustration works from Andrea Wan. The works serve as a response to the process of transformation, the growing pains and the integration of New, done through her usual surrealist and mystical lens of story telling.
The new works set a tone and intention for the now and onwards. The blue series shows the seed-planting in the liminal space of unknown, while the "totems" of new growth featuring cutouts of nature elements blooming around spinal structures is a calling for balance and harmony during these times of change.
Having left Berlin and moved back to Canada two years ago, this exhibition is a revisiting of the past while standing in the threshold of new beginnings.
Andrea Wan is a Hong Kong-born, Vancouver-raised Visual Artist and Illustrator. She spent the last 8 years living in Berlin and travelling around the globe after she finished her studies in Vancouver and Denmark. Andrea sees her practice as a container in which she can allow what needs to come through in her stream of consciousness. Often the otherworldly images and narratives are reflective of her ideologies. Her body of work includes, but not limited to ink on paper, murals, digital media and sculptures. Themes such as nature, personal mythology and self-enquiry have continued to propel her creative exploration over the the last years.
Andrea Wan: Reunion
Urban Spree Galerie
Revaler Str. 99
10245 Berlin
Opens Everyday 14:00-19:00 (12:00-19:00 on Sat + Sun)
Infos and Catalogue: contact@urbanspree.com
Available artworks
Ooops, there is no results...