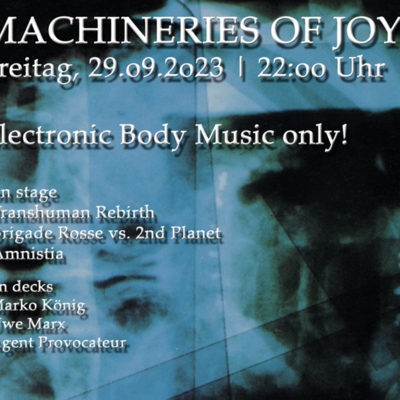 Concerts
Machineries Of Joy: Transhuman Rebirth / Brigade Rosse vs. 2nd Planet / Amnistia
Information
Promoter
Danilo Jahnke , Volker Neumann
About the Concert
_on stage:
_Transhuman Rebirth
_Brigade Rosse vs. 2nd Planet
_Amnistia
on decks:
_Marko König
_Uwe Marx
_Agent Provocateur
Kein Industrial/Noise, kein Futurepop, kein Cybergothic, kein Hellectro, kein Minimal/Wave. Diese Party steht für einen Abend, wo nur harte, düstere Elektronik gespielt wird. Und natürlich nicht nur Oldschool EBM, sondern auch und besonders Bands wie Frontline Assembly, Leæther Strip, XMTP, Numb, Paracont, Skinny Puppy, Serpents, Haujobb, Front 242 & Co. - Namen, bei denen Kenner mit der Zunge schnalzen. Ein Abend der Elektronik, an dem - obwohl auch aktuellere Tracks laufen - mit etwas Wehmut in die kreative Hochzeit des Genres zurückgeblickt wird: in die 90er Jahre, als nahezu wöchentlich Alben erschienen, die allesamt heute zu Recht als Genreklassiker gelten.
Ein Blick zurück sei hier erlaubt: "Machineries Of Joy" erarbeitete sich in den Nuller-Jahren einen guten Ruf in der Stadt. Unter dem Namen richtete Resident-DJ Uwe Marx wegen ihrer einmaligen Konsequenz umjubelte Aftershow-Parties u.a. für Nitzer Ebb oder Skinny Puppy aus. Im Rhythmus bleiben!
***************
No Industrial/Noise, no Futurepop, no Cybergothic, no Hellectro, no Minimal/Wave. This party stands for an evening where really only hard, dark electronics will be played. But of course, not only oldschool EBM, but also and especially bands like Frontline Assembly, Leæther Strip, XMTP, Numb, Paracont, Skinny Puppy, Serpents, Front 242 & Co. - Names, where connoisseurs click their tongues. An evening of electronic music where, although more current tracks are also played, we look back with some nostalgia to the creative heyday of the genre: to the 90s when albums were released almost weekly, all of which are now rightly considered genre classics.
A look back is allowed here: "Machineries Of Joy" made a good name for themselves in the noughties of the city. Under the name, Resident-DJ Uwe Marx hosted acclaimed after-show parties for Nitzer Ebb or Skinny Puppy, among others, because of their unique consistency. Im Rhythmus bleiben!