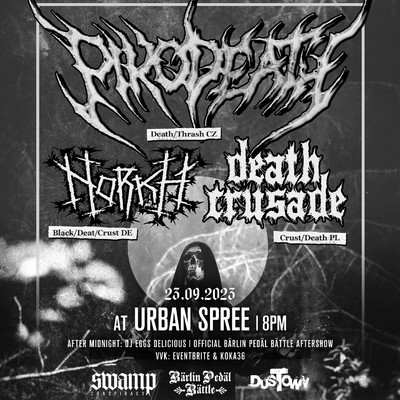 Concerts
Swamp Conspiracy pres.: Death Crusade + Pikodeath + Norkh at Urban Spree
Information
Promoter
Swamp Conspiracy, DUSTOWN
About the Concert
For as we can't run our Berlin Swamp Fest at ye olde or new Zukunft am Ostkreuz, we shall meet for a night long wrecking ball at Urban Spree. Swamp Conspiracy presents:
PIKODEATH
NORKH
DEATH CRUSADE
after midnight: DJ Eggs Delicious
!!! OFFICIAL BÄRLIN PEDÄL BÄTTLE AFTERSHOW PARTY
means: Halfprice on the door with BPB wristband!!!