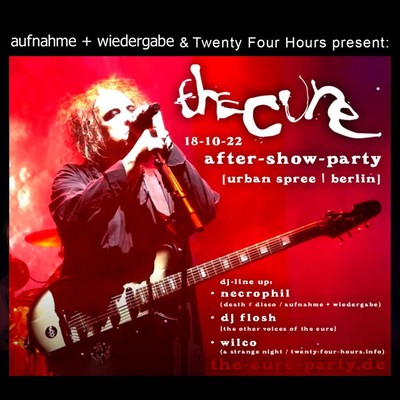 Concerts
The Cure | Euro Tour 2022 | Berlin | After-Show-Party
Information
Promoter
aufnahme + wiedergabe, Twenty Four Hours
About the Concert
aufnahme + wiedergabe & Twenty-Four-Hours present:
Ladies & Gents, dear Cureheads!
The meanwhile traditional "The Cure After-Show-Party - A Strange Night" - after the The Cure concert in Berlin on 18/10/22 - will be take place very close to the concert venue at Urban Spree at RAW-Gelände. Further information at
https://www.the-cure-party.de
Sounds / Klänge:
The Cure & Friends [The Glove, Siouxsie (The Banshees & Other Creatures), Cranes, David Bowie and related sounds].
DJ-Line up:
• NecroPhil (DEATH # DISCO / aufnahme + wiedergabe)
• DJ Flosh - The Other Voices Of The Cure
• Wilco
This party is dedicated to Nancy and Marcel
We miss you!
//////////////////////////////////////////////////////////////
This after-show party will be supported by:
"Hauptquartier-Berlin", the Master Hairdresser for Cureheads and other creatures [Lychener Str. 23, 10437 Berlin | Phone: 03052663435 | Web:
hauptquartier-berlin.com
]. Thank you very much, Matze!
Gratitude and love to :dark sounds:, Knüpfi, Ørlög und Patrick for your support over the past years and I look forward to welcoming you again and again and again in the future.
…nothing left but faith.