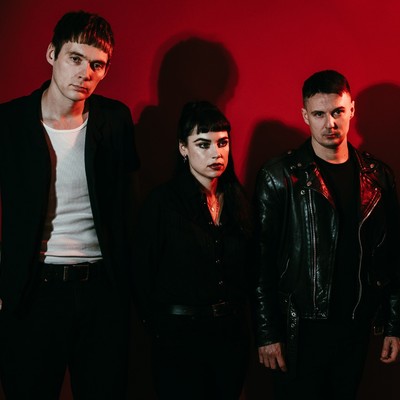 Concerts
Black Doldrums (UK) + Guests: Clichée | Berlin Show @ Urban Spree
About the Concert
Popmonitor @ Urban Spree
Montag 08.05.2023
Live:

BLACK DOLDRUMS (UK)
+ Special Guests:
CLICHÉE
Einlass: 20.00 Uhr
Beginn: 21.00 Uhr
INTENSE AMBIENT POST-PUNK
Kevin Gibbard and Sophie Landers produce a dark psych, contemporary form of gothic post-punk under the name BLACK DOLDRUMS. Their songs contain hook and lead tribal drums and euphoric guitar textures that frame lyrics about purpose and introspection. The duo have been building up a devout following since their self-released EP on a limited number of cassettes 'Exit City Lights' before their first official signing to indie label Club AC30 in 2018, releasing two sold out vinyl EP's in 2018 and 2019, 'Sad Paradise' and She 'Divine'.
In 2020, Black Doldrums collaborated with electronic duo 'TVL's Jared Artaud, producing their debut album with grammy award winner Ted Young. In March 2021, Black Doldrums signed to psych/post-punk giant Fuzz Club Records who released the band's debut album 'Dead Awake' on 11th March 2022, gaining critical acclaim across mainstream media outlets. In September 2022, Black Doldrums collaborated with THE KVB who remixed 'Dreamcatcher', the third single from 'Dead Awake'.
"A MIX OF PSYCH-ROCK AND SHOEGAZE SOUNDS TO DIE FOR." – ROLLING STONE
"A FIERCE COMBINATION OF PSYCH, REVERB, DRONE AND ME LODY" – UNCUT
"YOUTHFUL AND AMBITIOUS CONTEMPORARY ROCK 'N' ROLL" – SHINDIG!
"AWE-INSPIRING… BLACK DOLDRUMS CREATE TRANSIENT AND EUPHORIC DARK POST-PUNK." – LOUDER THAN WAR
Female Post-Punk from Berlin
CLICHÉE
Are three women on the drums, bass guitar and guitar with a big passion for intense songs and the expanse of vocals. Deborah, Johanna and Carla evoke the fragile beauty of dark Wavesounds and move between Shoegaze, DarkWave and PostPunk.
Growing up between the remains of GDR and the wasteland of forgotten stretches of land in East German y, two outsiders met in their school days and played in a The Smiths cover band. When they met again a few years later in Dresden, a tight friendship developed between them that found its climax 2019, meanwhile in Berlin, with the starting of their band project Clichee. Since April 2022, Carla on the bass guitar is now member of the band and gives it a new intensity,
musically and personally. With their music, the three musicians let out their frustration about ill- fitting romances and one or the other childhood trauma and compose songs with intensity and depth that can be heard on their EP that was released February 2022.
Their first publication with the emerging label Ghost Palace Records was completely recorded on an 8-track-tape player. The EP is only available on tape and digitally. The sound reminds of the earlier records of Siouxsie and the Banshees or Cocteau Twins. Their pieces are impulsive anddriving, their stage presence is simultaneously energetic and delicate. As equal opposites they are absorbed in their music and create a tangible atmosphere.