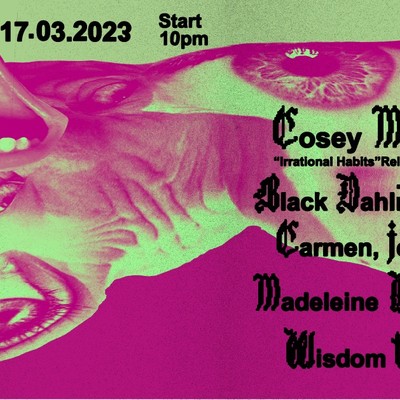 Concerts
Cosey Mueller (release party), Black Dahlia, Carmen, Jess & Rosa, Madeleine Rose, Wisdom Tits
Information
Promoter
Cath Slas , Steffi Cosey
About the Concert
Paty Vapor, Madeleine Rose and Caillou are joining forces to present a tasty wave female powered night with live shows, performances and dj sets. For our first edition we are glad to announce the following acts:
Cosey Mueller is an artist/musician currently living and working in Berlin. 'Interior Escapes' was her solo debut, a project recorded during the 2020/2021 pandemic times, wich is followed by her new album 'Irrational Habits' released February 2023. A mixture of analog synthetic sounds, experimentation with simple repetitive melodies, moving beats and expressive vocals characterise her music.
Black Dahlia is an experimental musician and vocalist who is known for her mind bending, insanely danceable and avant-garde live performances. Fusing elements of New Beat, theatrical Synth-Pop, Italo, EBM, Industrial, and everything vintage, she commands the stage with off-the-wall theatrics and a certain bite of fright.Along with multiple international releases, she has performed live supporting artists such as Zanias, Buzz Kull, Enola and Rebel Yell.
Wisdom tits is the Berlin-based project by Caillou, French-German artist, one half of MILK ME and Urban Spree music curator, alongside Paty Vapor, Brazilian artist member of the infamous Blum and Wrong Era, a sub label from Slow Motion Rec. Together they run their party series focused on Synthpunk, Wave and EBM female & queer artists to aware and embrace towards gender equality in the music scene. Their dj sets are a blend of harsh drums, sexy bass lines and obscure vocals, mixing synthpunk-bodywave to new beat-industrial they infect the dance floor with their high energy selection.
Artwork by Juan Lagarrigue