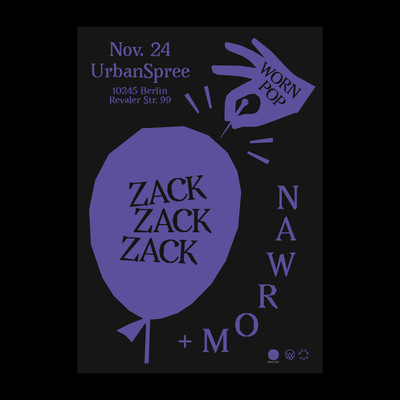 Concerts
Zack Zack Zack (AU) + Morwan (UA) live at Urban Spree
About the Concert
Zack Zack Zack is Yigit Bakkalbasi and Cemgil Demirtas. Both are originally from Izmir, Turkey, currently living in Vienna, Austria.
They like to experiment and surprise with innovative mix of sounds. Retro-Future, avant-garde, experimental, synthwave – their music is beyond borders and labels.
Their name is an artistic manifesto; a wordplay refering to the Austrian political disaster ("Ibiza Affair") from May 2019, which revealed the dirty face of politics and lead to the government's fall. This was the time when they started playing and their first single Kunst is the result of a live performance recording in Kunstschule Wien in June 2019.
--
Morwan is a music project by Alex Ashtaui From Kyiv. Searching for a new direction, Ashtaui circled back to his half-Ukrainian, half-Arab roots, arriving at the perfect crossroads - a sonic aesthetic informed by both ethnic tradition and the familiar territory of dark, driving post-punk.